Last Updated on October 30, 2023 by Milton Campbell
Running or managing your own project can be a very intimidating task at first. Initially, you may have a hard time seeing how you go from nothing to the completed project but you are fully capable of doing it. 
In this article, you will find tips and procedures on how to plan a project with ease. Including how to make a project management plan, the phases of a project, project management tools, and project management certifications. The right plan will lead to more successful completion of the project objectives.
Why is a Project Management Plan Important?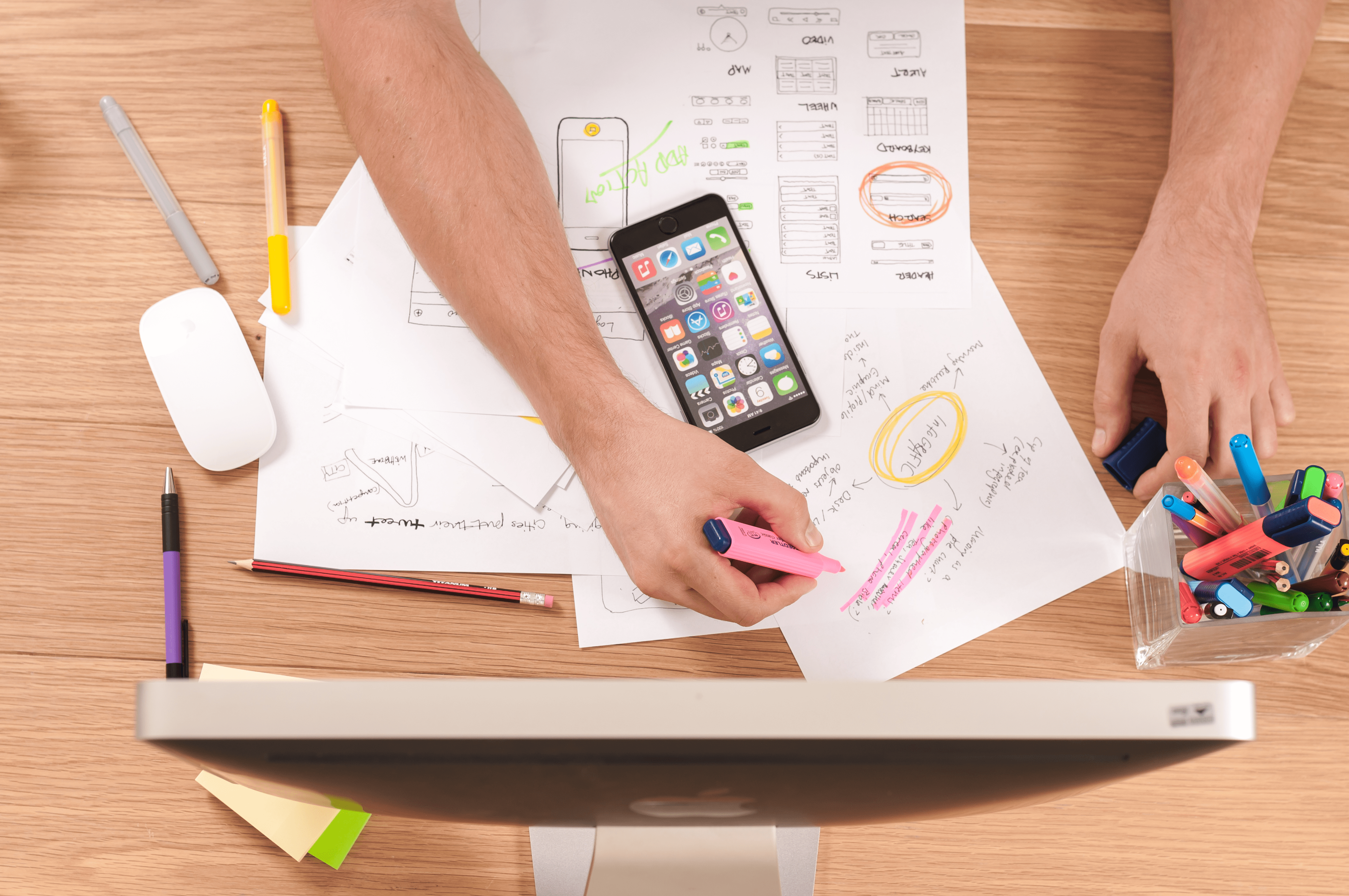 Planning is the first and most important stage in just about any project. Without a plan, you are setting yourself up for a rough time and likely failure. 
Planning helps you and your team prioritize goals, objectives, and tasks, and identify potential roadblocks. Once you identify these potential roadblocks, you can start eliminating them early. 
You may be thinking that nothing ever goes according to plan. This is true in many cases, you can't plan for every scenario all the time. Things pop up that you could have never seen coming but even if things don't go exactly as planned, it is still better to have a plan. 
 A plan gives you a roadmap to the end goal. Even if you have to adjust it from time to time. In this article, I will discuss how to write a project plan and how to use it, the phases of a project, and provide tips for successfully planning a project. This information will provide you with the tools to manage a more efficient and productive team. 
What is a Project Plan?
A project plan is a formal set of documents that define a project and the way forward with that project. These documents include information like the scope of the project, goals, cost, stakeholders in the project, risks, and many other details. 
The following documents are typically contained in a good project plan:
Project Charter
The project charter is a document that gives a general overview of the project. This document should be kept short and to the point. Included in the charter should be the following points:
Why the project is happening?
Additional goals of the project.
Any foreseen risks of the project.
Benefits of the project.
Overall budget/cost of the project.
How to Create a Project Charter
Start with the scope of the project. The project scope is the goals and what you are trying to obtain. A good way to do this would be to create a vision statement for your project.
List the major roles of members of the team. Including project stakeholders, leaders, customers, and anyone else with a major role. 
Create a project timeline for the implementation of the project. Include any significant milestones and at least a projected time for reaching those milestones. 
Create a list of resources needed and the costs of those resources. This could be personnel needed, materials, equipment, facilities, or anything else needed.
Highlight any major roadblocks that could come up. This is to get everybody thinking about how to minimize or eliminate these issues early or at least not be caught by surprise when they come.
Create a Project Plan
Mastering the art of creating an effective project plan is crucial for the success of any project, big or small. An effective project planning process not only helps you stay organized but also ensures that you meet your goals and objectives within the stipulated time and budget. In this blog section, we will walk you through a step-by-step guide to creating a foolproof project plan that sets you up for success.
Step 1: Define Your Project Goals and Objectives
Before you dive into the nitty-gritty of planning, it's essential to have a clear understanding of your project's goals and objectives. This will help you stay focused and ensure that all your efforts are aligned with the desired outcomes. Start by asking yourself the following questions:
What is the purpose of the project?
What are the desired outcomes?
How will you measure success?
Step 2: Identify Stakeholders and Their Expectations
A project involves multiple stakeholders, and it's crucial to identify their expectations right from the start. This will help you keep everyone on the same page and avoid potential conflicts later on. Make sure to:
List all key stakeholders, including team members, clients, and vendors.
Understand their expectations and priorities.
Establish a clear communication plan to keep everyone informed throughout the project.
Step 3: Break Down the Project into Tasks
Now that you have a clear understanding of your goals and stakeholders, it's time to break down the project into smaller, manageable tasks. This will help you allocate resources and time more effectively. To do this, you can:
Create a work breakdown structure (WBS) that outlines all the tasks and subtasks.
Estimate the time, resources, and budget required for each task.
Identify any dependencies or prerequisites between tasks.
Step 4: Assign Roles and Responsibilities
Once you have the tasks outlined, it's time to assign roles and responsibilities to your team members. Clearly defining who is responsible for what helps ensure accountability and keeps the project moving forward. Be sure to:
Assign tasks based on team members' skills and expertise.
Define each team member's role and responsibilities within the project.
Communicate expectations and deadlines clearly.
Step 5: Develop a Project Schedule
A project schedule is the backbone of your project plan, and it helps you track progress and stay on track. Here's how to develop a comprehensive project schedule:
Map out all tasks, including their start and end dates, using a Gantt chart or similar tool.
Factor in any dependencies and constraints.
Add milestones to mark significant events, such as the completion of a project phase.
Step 6: Identify and Mitigate Risks
No project is without risks, and it's essential to identify potential roadblocks early on to minimize their impact. To do this:
Conduct a risk assessment to identify potential threats, such as resource constraints, budget overruns, or scope creep.
Develop contingency plans to address these risks.
Regularly review and update your risk management plan throughout the project.
Step 7: Monitor Progress and Make Adjustments
Creating a project plan is not a one-time task. Instead, it's an ongoing process that requires regular monitoring and adjustments. To keep your project on track:
Establish key performance indicators (KPIs) to measure progress.
Hold regular status meetings with your team to discuss challenges and accomplishments.
Adjust your plan as needed to accommodate changes in scope or other unforeseen circumstances.
A well-crafted project plan is essential for the success of any project. By following the steps outlined in this guide, you'll be well on your way to creating a foolproof project plan that sets you and your team up for success. Remember, adaptability and effective communication are key in ensuring that your project stays on track and meets its goals and objectives.
Statement of Work
A statement of work is a document that defines needs and deliverables from external sources of the project team. This document may be created as part of a bidding process for a contract with external vendors. This document is crucial to give stakeholders insight into deliverables and budget.
See below for things you should include in your statement of work:
All deliverables from external sources and when you need them by.
What tasks will require deliverables?
Individuals that will be requesting those deliverables.
Any additional processes for authorizing purchases or requests.
When payments will be required by companies for deliverables and how payment will be made?
Work Breakdown Structure (WBS)
A work breakdown structure is a way of breaking down a project into smaller more manageable tasks. There are deliverable-based work breakdown structures and phased-based work breakdown structures.
Deliverable-based work breakdown structures are used to break projects into tasks based on the cost of tasks and deliverables. This is a great way to demonstrate how much different phases of a project will cost. See the example below.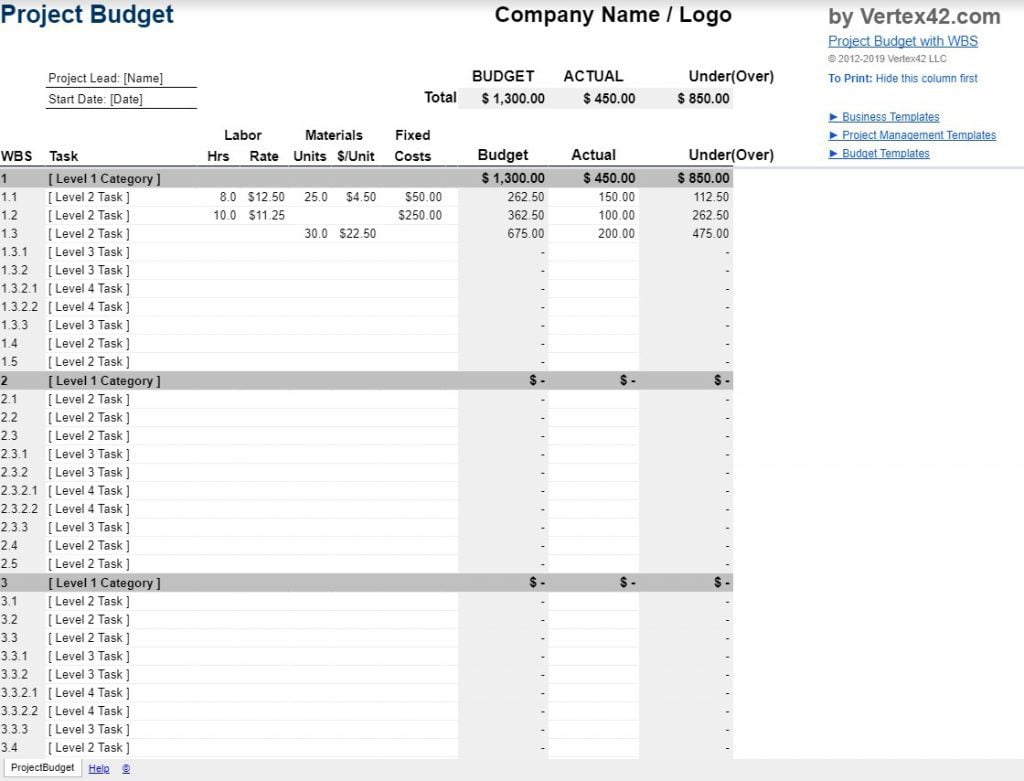 Phased-based work breakdown structures are used to show the chronological order of each phase of a project. See the example below.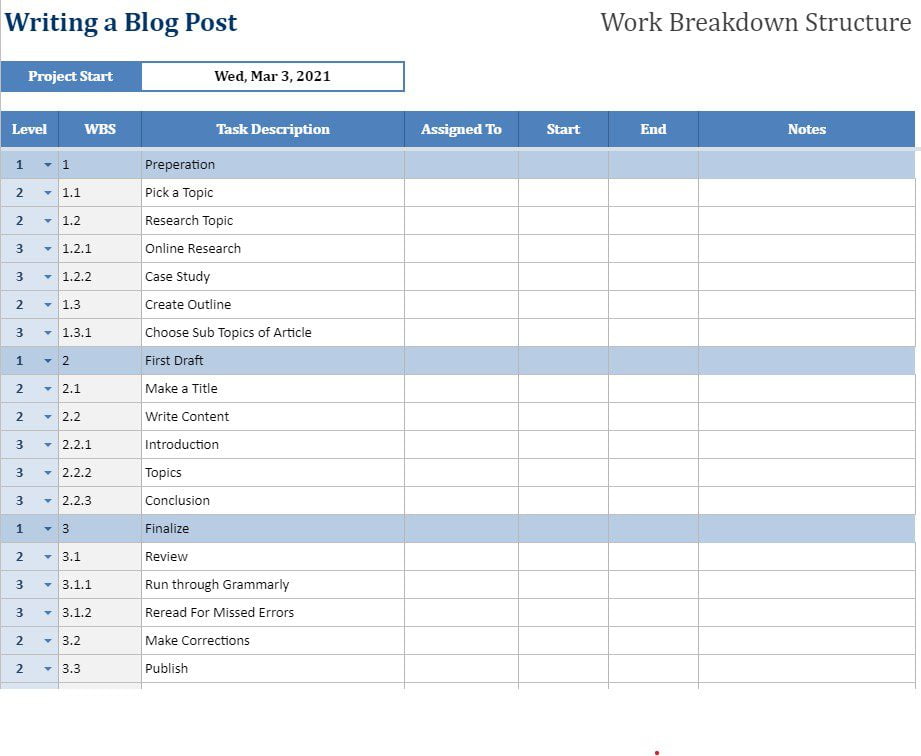 These are great tools for planning a project but these are intended to be an outline or a guide of a project and not so much a step-by-step. Be careful not to waste your time breaking down a project too far or your work breakdown structure will begin to get confusing. I recommend you break it down 5 levels at most. If you want to break it down further you may want to make a whole new WBS for that task. Both of the work breakdown structures above were made using free templates from Vertex42.com.
The 5 Phases of a Project
Initiation – This is the start of the project. In this phase, the goals and objectives of the project are defined. It's in this phase that a team is assembled. A feasibility study is also conducted during this stage. 
A feasibility study focuses on researching what is required to complete a successful project. Other solutions and options will also be explored to determine the best route for the project. Risks and potential problems are also explored in this stage.
Planning – This is the stage that a project plan is created. Many of the details of how the project will happen and the scope of the project are fully defined. This phase will guide you through the rest of the phases of your project. 
Execution – In this phase, you put your plan into motion. This is normally the longest phase of the project. This is where the team of the project produces the product or service that is the goal of the project.
Monitoring & Controlling – This is normally done in conjunction with the execution phase. In this stage, you are utilizing the project plan and metrics to ensure the project is staying on track.
Closure – When the project is complete, it enters the closure stage. This is where the final product is given to the stakeholder of the project. Contracts are finished and normally an acceptance of the final product is completed. In this stage, all other phases of the project should be reflected upon with the team to discuss lessons learned and determine what could be done better on the next project.
Tips for Successful Project Planning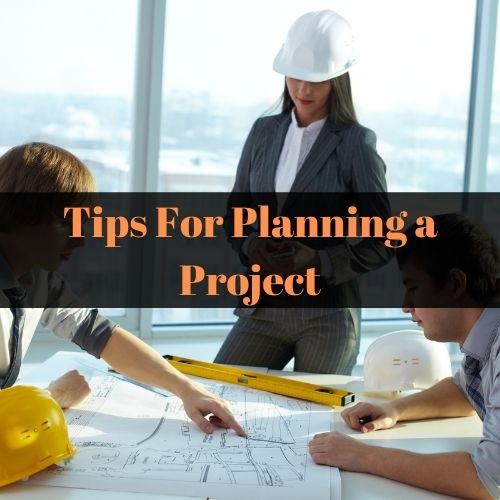 Define Your Project and Goals
I've already discussed the importance of defining your goals in the initiation phase of the project but it's tip number 1 because it's so important. You need to define your goals not only for yourself but for every member of the team needs to understand your goals of the project. These goals should also be reinforced at every opportunity to keep everyone on track. 
A visual representation of your goals is a great way to reinforce them. Depending on your project, a vision board may be a fantastic way to visually display your goals. You can find out how to easily make a vision board by clicking the link. Another way to reinforce your goals is with a vision statement. If you would like to learn more about making a vision statement click the link to get more information.
Have a Timeline
Have you ever given someone a task only to return later to find out it wasn't done? You told this person to get this task done fully expecting them to hop right on it but the problem was you never told them when it needed to be done. They heard, get this task done when you get a chance. Now if you would have told them you needed it done by a certain time, they would have been far more likely to get it done. 
This example shows the importance of having a timeline. A timeline helps guide you and your team through the project, making sure things don't just keep getting put off. People tend to work a little faster when there is a timeframe associated with getting something done. 
Think Ahead
You can't possibly plan for everything but you still have to put a good bit of thought into the future. Think about what dilemmas or problems may arise in the future. Think about things that could change with the project. For example, if the project deals with a government contract and a new official is elected will they want changes to the project? Try to come up with possible solutions for these potential problems. As I said, you can't plan for everything but you want to be as ready as you can.
Focus on Communication
Communication is vital in many aspects of life and project planning is no different. You have to communicate with customers, vendors, subordinates, and many others during a project. Communication can make or break a project. You can have the best plan in the world but if it's not communicated to your team, it does you no good. If you want to learn how to enhance your communication skills check out this article I wrote for mastering your communication skills.
Utilize Technology
Technology can be your best friend when it comes to planning a project or project management. I already showed you how a program like Vertex42 can be used to help you make a WBS but that is not the only program that can be helpful. There are thousands of programs out there that can be used to make your project a success. Continue reading below for some project management software that can make things run smoother. 
Prioritize
Have you ever seen people that work their butts off but seem to get nothing done? Whereas some people seem to barely work but produce massive results. Have you ever heard of the 80/20 rule? 20 percent of the work gets you 80 percent of the results. So the person in the first example focuses on the 80 percent that only gets them 20 percent of the results. In the second example, this person focuses on the 20 percent that gets them 80 percent of the results.
This rule is very true in many instances of project planning so during projects you should prioritize the areas that bring you the most results. I'm not saying that you should leave things partially completed, but prioritize the quick wins. Proper prioritization maximizes productivity. To learn more about this and other ways to increase your productivity click the link. 
Get Feedback from Above and Below
It's easy to listen to those above you but it's important to not only listen to those above you, but you must also listen to those below you. The ones below you are normally the people with the most hands-on experience in the project. These people are the ones that will be the first to let you know of problems or better ways of doing things. You have to make it a point to seek out this feedback from your team members.
Reflect Throughout and When Finished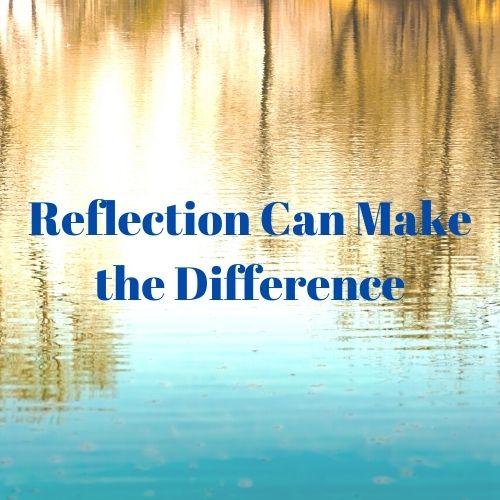 Reflection is one of the best ways to improve. Think about things that went right and what you or your team did to make those go the way you wanted them to go. Think about the things that went wrong and what you or your team could have done differently to make those things go smoother. Reflection will help you both throughout a project and will help you do things better in your next project.
Project Planning Software
Monday.com – Offers team collaboration tools for project management, including shared tasks, file sharing, and communication tools.
Workzone – Offers many templates for various projects and tasks to help sustain or start new processes.
Workfront – A tool created by Adobe to enhance team collaboration and project management.
For additional team collaboration tools check out my article on 8 team management apps.
Project Management Certificates
There are many legitimate companies or institutions that offer project management certifications if you are interested in becoming a certified project manager. Listed below are just a few of the companies offering certification.
Project Management Institute is a well-known company that offers Project Management Professional certification.
The Scrum Alliance offers a Certified ScrumMaster credentialing to certify you on agile methodologies. 
CompTIA offers a CompTIA Project+ certification which is more of an entry-level certification accepted by many various government and civilian organizations.
For more project management certification opportunities check out this list of 13 project management certifications from CIO.
Wrapping It Up
I hope you found this article on planning a project useful. The best way to build your project management skills is through practice and experience. Get out there and start your project now. You will likely make mistakes but if you learn from them and come out stronger they will never be failures. 
If you enjoyed this article on how to plan a project useful, don't forget to share and subscribe using the buttons below.